For the last couple of months I've been working from the Innovation Warehouse co-working space in Farringdon. The Innovation Warehouse provides free filter coffee, 50 pence espresso pods and hot water for members to use in their Aeropress and plungers. Each member of the space has their own coffee routine. One of the startups has a tradition of grinding a whole bag of fresh Monmouth coffee in the morning if they have a particularly big day coming up. But sometimes there is no substitute for going outside for walk and a flat white or a real espresso.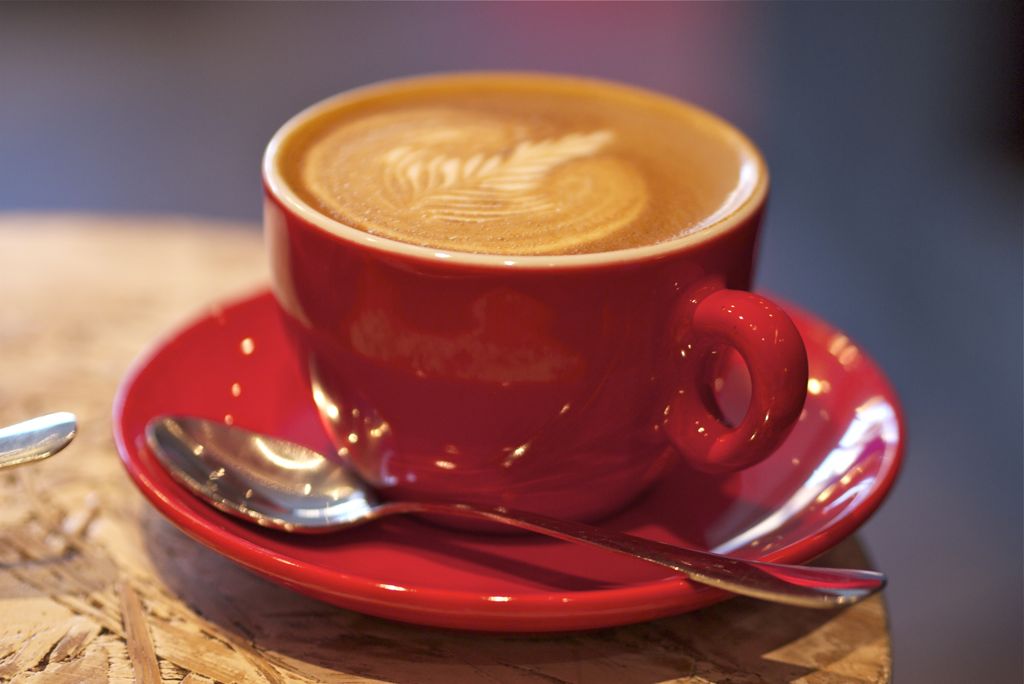 I asked some of the other Innovation Warehouse members where they go for coffee in Farringdon and compiled their suggestions into a list based on the things that entrepreneurs most need in a cafe.
I've created a map in FourSquare of the best cafes in Farringdon.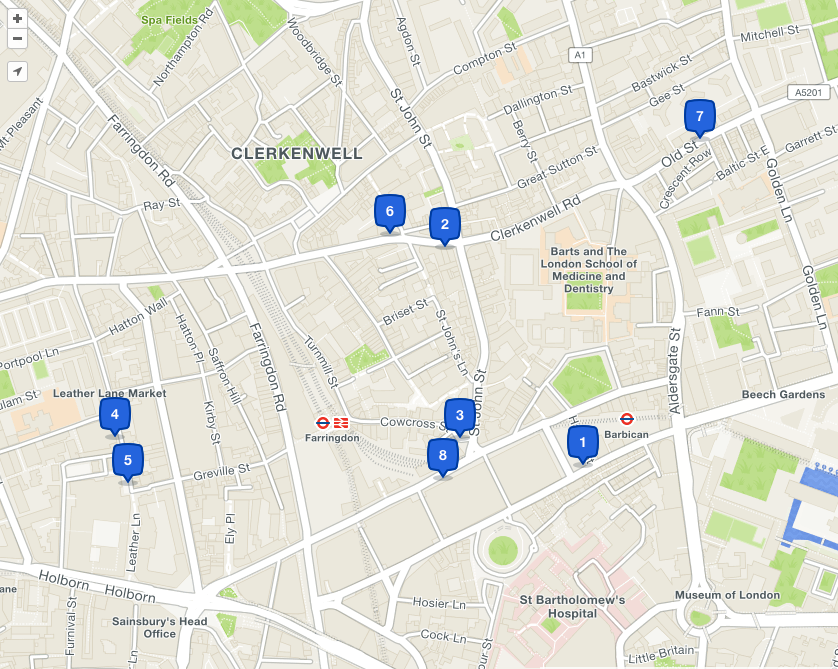 The distances listed below are in meters from the Innovation Warehouse front door, which is important when you're working on a startup and want to minimise the amount of time that you spend not working on being awesome.
Best for a client meeting: Dose (280 Meters)
Dose Espresso are a startup themselves. They also run the cafe at the Google Startup Campus in Shoreditch. Their flagship cafe on Long Lane in Farringdon is small and can get a bit crowded, but you can usually still squeeze into a seat and the high-quality coffee is worth it. The unprententious atmosphere says to your client that you care enough to go somewhere special without being over the top. They use Square Mile beans and the guest espresso for the last few months has been excellent. Highly recommended.
Best for a quick break: Farm (100 meters)
Farm Cafe on Cowcross uses organic and local produce. They make their coffee with Square Mile beans and the staff are fast and efficient (if a little tattooed and tired sometimes). The design team that I worked with on the Innovation Warehouse rebranding project get their daily coffee from Farm. It's perfect for takeaway coffee because it's so close to the office. Recommended.
Best for getting to know a new employee: Workshop (380 meters)
Workshop Coffee are an Australian style cafe and roast their own beans. The coffee is excellent and the giant loft space means there is always a place to sit and talk. The vibe will also help make a new employee feel that Farringdon is a cool place to be. The mood at Workshop is a perfect balance of the different characters inside a startup. The hackers, hipsters and hustlers will all appreciate the purist approach to coffee mixed with a casual vibe.
Best for an investor meeting: Lobby at The Zetter (400 meters)
The Innovation Warehouse provides free meeting rooms, so usually investors come to visit members on-site. But sometimes it's still nice to break bread somewhere out of the office. The lobby at the Zetter Hotel is a little-known Farringdon secret with plush couches and high-end service. The coffee is passable but the atmosphere is impressive.
Best for meeting people from Shoreditch: Look Mum No Hands (800 meters)
Shoreditch is the centre of the East London tech community and has lots of other business accelerators. The Look Mum No Hands Cafe is close enough to Shoreditch to drag the hipsters down Old Street. But it's also an easy walk from the Innovation Warehouse (just the other side of the Barbican). The theme of the cafe is cycling and they have a bicycle repair shop built in. Their smoothies are perfect for a hot day and it's open late so I use it as a spot to catch up with people after work.
Best for meeting people from Soho: Department of Coffee (430 meters)
Department of Coffee is a New Zealand owned cafe on Leather Lane. Their light brick interior with big windows makes designers and PR people feel at home. It's close to Chancery Lane Tube and easy for people coming from the West End. The coffee is smooth, creamy and excellent. It's a great place to get out of the office and plot world domination.
Best coffee in walking distance: Prufrock (450 meters)
If the purity of the coffee taste is all that matters, then Prufrock Cafe is worth the five minute walk from the Innovation Warehouse. It's close to design firm Ideo, business incubator TechStars and the shared startup space at Warner Yard.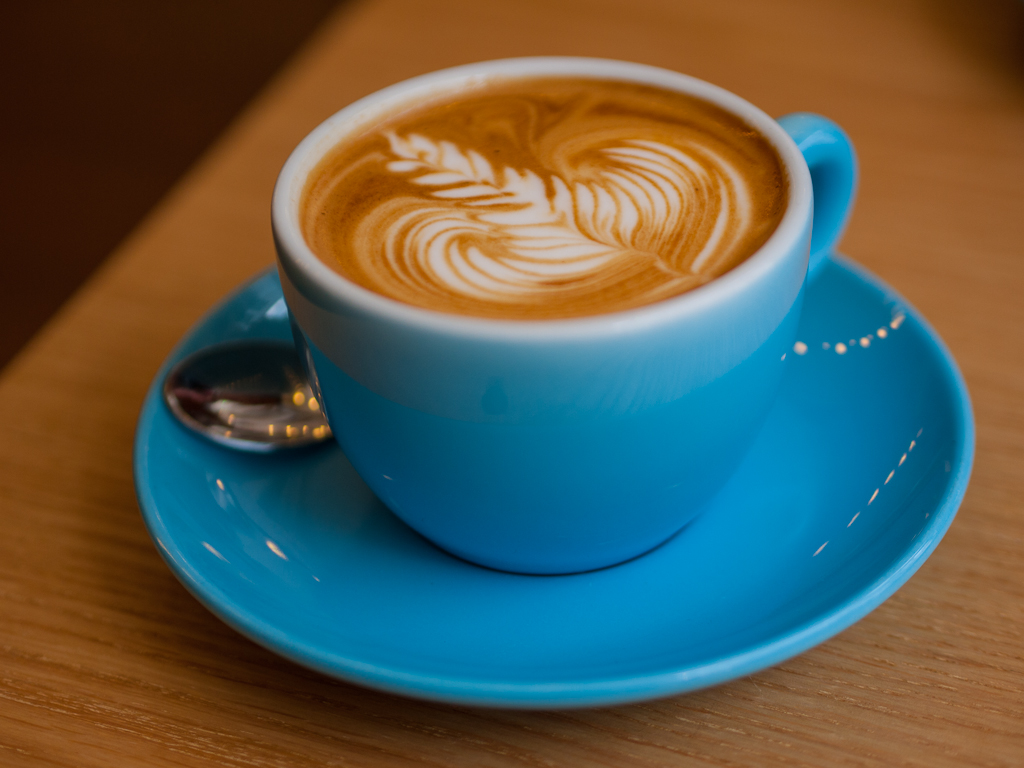 But the real reason to go is for the best Flat White in London. Prufrock are coffee purists and the cafe is one of the best in London. If you have a coffee-loving friend coming to visit from overseas, Prufrock is the place to go to showcase the best of London.
Bonus tip:
TimberYard in Old Street is half co-working space and half cafe. If I ever need a day away from the office to clear my head, then TimberYard is a very productive place to hang out for an afternoon.