"A flat white is a small latte." Said the barista at the Workshop Cafe in London to an enquiring British visitor. My ears pricked up. To me, a flat white is much more, but those Workshop Coffee guys really know their stuff.
One of the great debates in the London cafe scene is the difference between a Flat White vs Latte. In some cafes, a flat white is just a small latte, but in others it's an entirely different drink.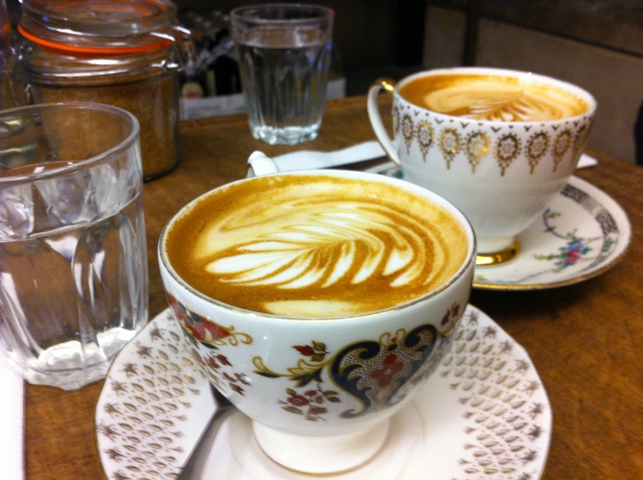 "A flat white is just a cappuccino with less froth isn't it?" I overheard a slightly confused Hungarian cafe owner say to a Kiwi customer. This was the final straw and set me off on a journey to search for a good definition of my favourite drink. To me, a flat white is like the Supreme Court's 1964 definition of pornography; I'm not quite sure how to define it but "I know it when I see it."

For purists there is a lot to a flat white. Including but not limited:
1. Velvet micro-foam instead of stiff froth.
2. Medium size, bigger than a macchiato or cortado but smaller than a latte.
3. Double shot so the coffee does most of the talking, not the milk.
4. Free poured milk so that the foam is folded through the whole drink and there is no discernable layer separation between liquid coffee and foam. This also help preserve the crema.
And that's just the basics of being a Flat White, let alone a good one. A good flat white is all about packing as much taste as possible into a small package.
---
Searching For Official Definitions of a Flat White
To settle the issue, I collected together the most authoritative definitions from around the world. We have some differing opinions including:
The flat white has less milk, less foam (hence flat white) and therefore proportionately more coffee than a latte. The desired texture is a velvety sensuality and there should also be a natural sweetness. New Zealand flatties tend to be double espresso shots while Australians typically pour a single. – Joseph Hoye from Electric Coffee Bean
A flat white is a coffee beverage prepared by pouring microfoam (steamed milk from the bottom of a pitcher) over a single or double shot of espresso. It is similar to the latte and the café au lait. – Wikipedia
A latte consists of a shot of espresso in a glass with steamed milk poured over, topped with a one-centimetre layer of froth. Contrary to the widely held belief that a flat white is stronger, the only difference between the two drinks is the vessel in which they're presented. A flat white is served in a ceramic cup, usually of the same volume as a latte glass. – Sydney Morning Herald
The main difference between a latte and a flat white is the ratio of milk and espresso. The flat white has less milk than a latte and usually a bit less foam on top. Unlike many people think, the flat white does have foam on top. – Coffee Info
Steamed milk poured over two shots of espresso, topped with microfoam. – Starbucks
The cappuccino is the "Marge Simpson" of espresso-based drinks, with the milk whipped into a bubbly froth and placed on top of the espresso like a high Marge Simpson "bee-hive" do. The latte, on the other hand, has had a hair cut, but nonetheless, has enough froth left to top the drink off with a slight bit of teasing on top. The flat white, on the other hand, doesn't have any of that volume on top, but rather has all that tease distributed throughout. – Espresso Coffee Snobs
Richard Rees, owner of the Nude Espresso, said that the secret of the flat white lay in the quality of the beans used for the double-shot espresso base and the "texturing" of the milk. He said: "When you heat the milk you get different layers in the jug. Further down you get the most silky, textured milk. You use that, not the frothy milk on top. The coffee has a stronger taste because you just use the first half of the shot… Probably about a third of the coffees we sell now are flat whites." – Evening Standard
---
Why are we fighting over coffee?
One common point of confusion is when people say a Flat White is "like drink xyz." because their definition of drink xyz may not be the same as everyone else's. So we're building on quicksand. The most common example is "A Flat White is a Caffe Latte." It's a common attempt at a simple definition of a flat white – but only from people who make Lattes in a certain way (with textured micro-foam). In most cafes, there is a significant difference between a latte and a flat white.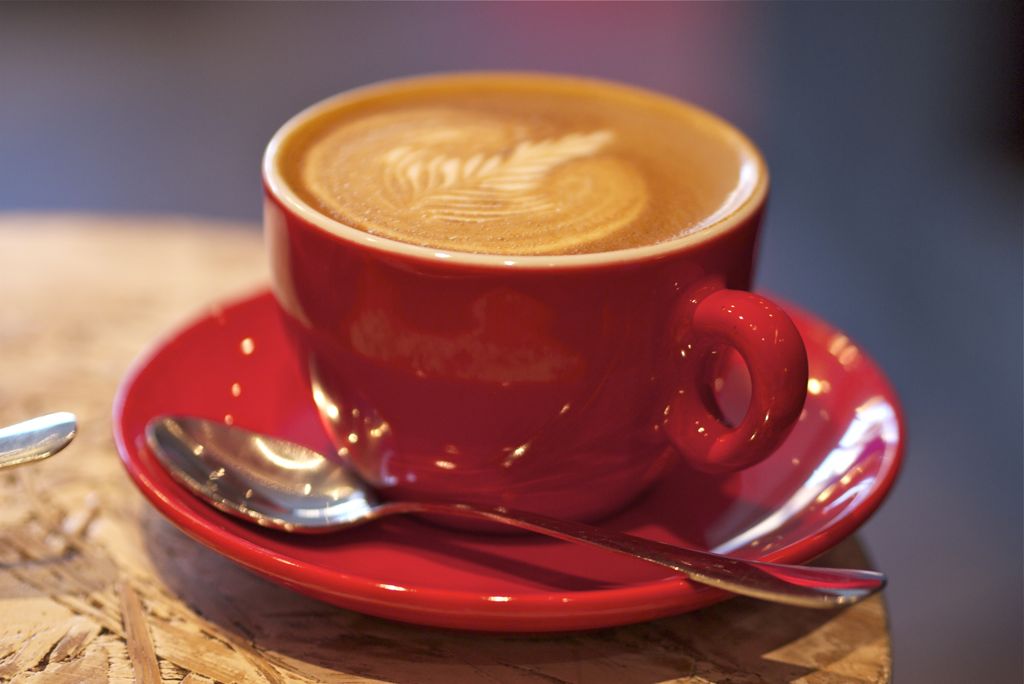 For people around the world who have never had a Flat White, this definition is confusing because they might only ever have had a Latte made in a certain way (milk scalded, pan heated, or wand heated with no velvet).
To me, a Flat White is simply a medium sized espresso with milk where the coffee does the talking. What's your definition of a Flat White?