Once you get more into coffee, you might start to ask yourself why you can't choose the coffee beans that go into your flat white. It's almost always a generic blend chosen by the cafe and there is no chance for you to learn by tasting different beans.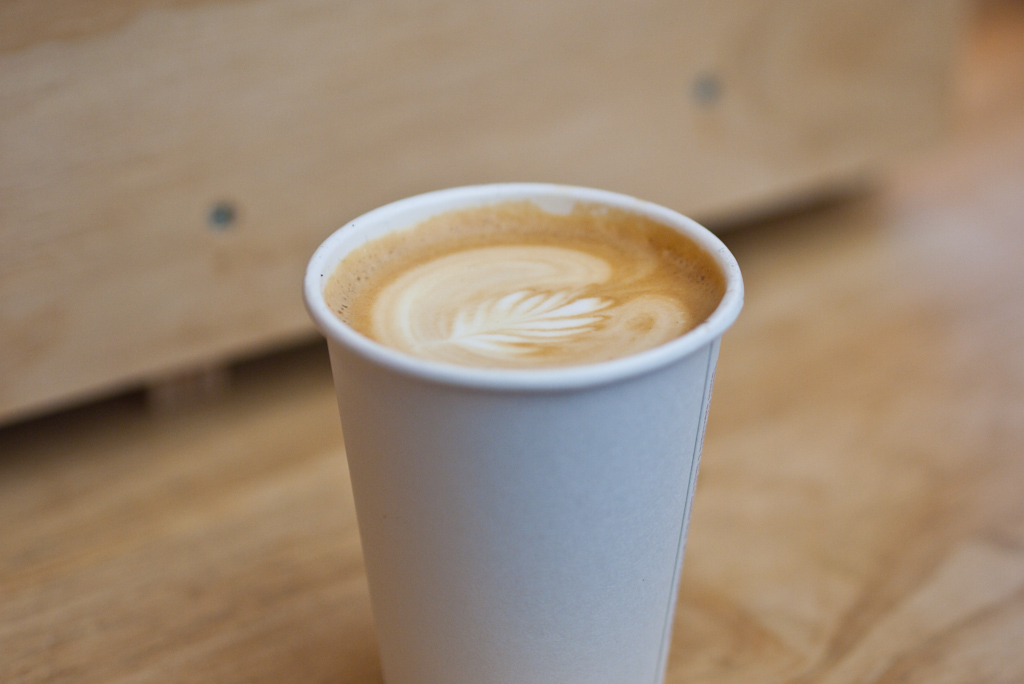 The same thought occured to architect Hoi Chi Ng and the itch eventually turned into The Coming Soon Pop-up Cafe in Exhibit Gallery at the Barbican. Hoi Chi is using as many different beans as he can get his hands on. This is a definite journey of discovery for him, but he's inviting all of us to come on the journey with him.
Coffee
Hoi Chi is the first to admit that he isn't the best barista in London. In fact, sometimes it feels more like having a friend make you a coffee than a clinical expert. You'll have to decide for yourself whether this is a good or a bad thing.
On the day that we visited, Coming Soon was serving a Korean roasted Coffee Libre from El Salvador and a single origin from Hasbean. Both were good. Tasting the difference between the two really does help educate your palate. If you go with a friend, then try to share because the differences in tastes can be remarkable. If you want to try another single origin espresso then Flat White in Soho also do a guest espresso.
There is unfortunately a reason that more cafes don't do single origin espresso (plenty do filter). There is an awful lot involved in running more than one bean option and keeping quality high. You need to dial in the grinder to get the right fineness and then adjust it throughout the day. I've been told by other cafe owners it's hard enough running a consistent blend and a decaf option, let alone maintain quality across another line of beans. The final reason is that purists like Reiss from Londinium think that milk in an espresso kills the subtlety of the flavour, so you may as well just use a blend anyway. Even so, I'm excited that Hoi Chi is giving it a go.
Coming Soon has a lot in common with DunneFrankowski at Protien. Both in terms of pop-up vibe but also in terms of coffee tasting, education and appreciation.
Doing it for yourself
If you've ever dreamed of starting your own cafe then you need to visit Coming Soon to see what commitment looks like. Hoi Chi runs the cafe out-of-hours from his day job as an architect. His boss knows about the project and is supportive, so the cafe is open before work, at lunch and afterwork. It's also open on Saturdays but it's easy enough to tweet Hoi Chi and check whether he's in.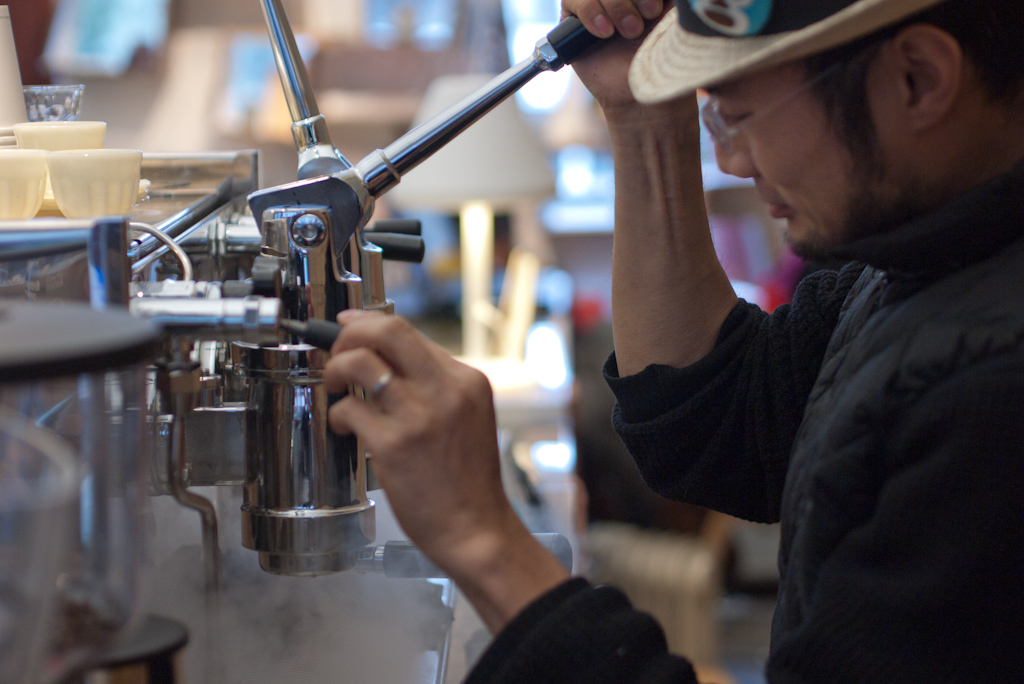 Robert Kiyosaki once said: "The test of how passionate you are about your business idea is not whether you are willing to quit your job to do it, everyone has that dream. The real test is whether you are willing to keep doing your job, put food on the table and hustle for hours before work, at lunch, after-work and make your business a success by sheer determination." Hoi Chi is proof that commitment to an idea can carry you through.
Atmosphere
Coming Soon has been featured in Le Cool and a very special review by Giulia of MondoMulia with great photos. Hoi's passion for coffee oozes through everything that he was doing. He designed and coinstructed the counter himself and the cafe is a true labour of love. Coming Soon has a wonderful website and blog.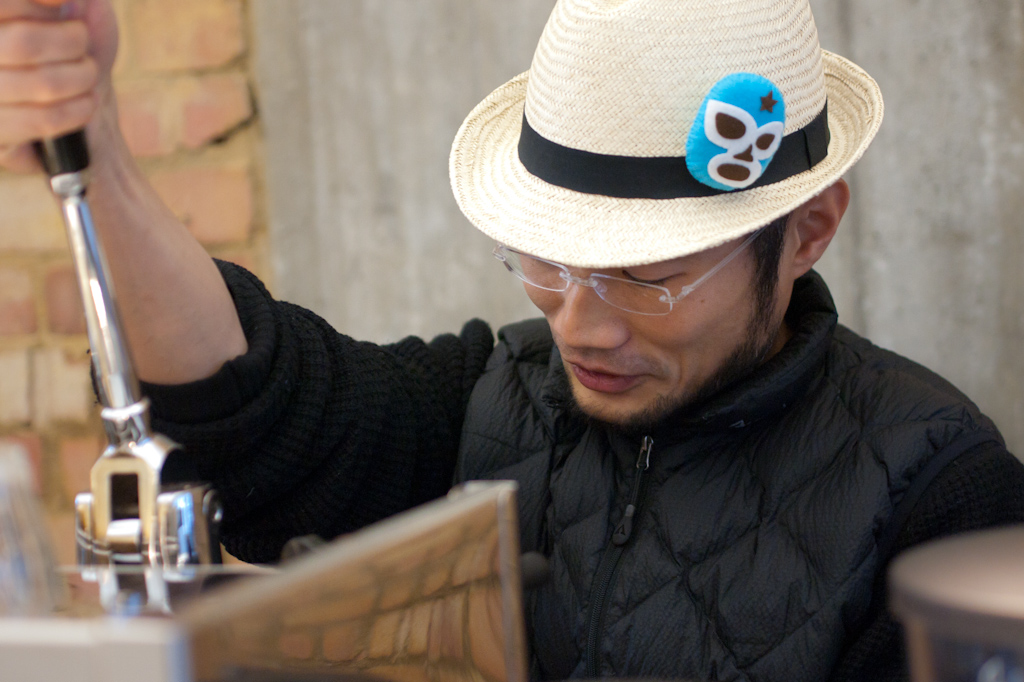 As a pop-up cafe the seating is basic, a couple of stools and a bar. But it's mostly a weekday affair so most people won't be lingering. The music and mood are a function of the design store and gallery (that the cafe is housed in) so it's not quite a perfect cafe experience. But again, that's not what you're there for.
Antipodean mafia
For me, Hoi Chi Ng is part of a Fourth Wave of modern coffee in London. This will be a Post-Aussie Mafia era. There are now so many Kiwi and Australian baristas and cafes that I'm willing to make a pilgrime to taste Portuguese, South African, Vietnamese or Korean takes on coffee. St Ali, Allpress, Kaffeine and others have re-created the chilled out vibe of independent Southern Hemisphere cafes so well in London that there isn't a lot of innovation to be seen, other than doing the same formula better. So maybe it's time for the rest of the world to bring the best of their coffee culture to London?