Video is the most powerful form of storytelling medium in all social media. This month I've been experimenting with Social Cam as a publishing medium for short, punchy videos about design, business and social media. Video is powerful because you can tell a narrative and convey emotion. Even as a professional communicator it is still one of the hardest mediums to master but also one of the most authentic.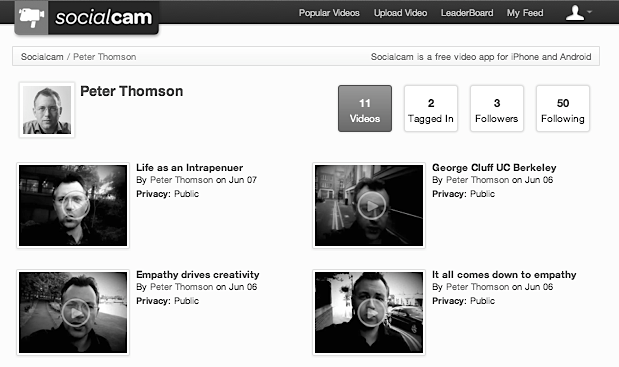 Social Cam, Viddy and Supr8 are part of a new trend towards more active video sharing using mobile devices. These apps allow you to shoot short videos in a stylised manner and share them quickly and easily. My camera has become like a mobile toast-masters exercise programme. I can now challenge my communications skills anywhere, any time.
I've also been finding that short video messages on Whatsapp messenger work surprisingly well. More like a rich talking sms message than a voicemail. I predict that short video messages sent one-to-one will become a more and more common communications tool because you can convey so much emotion in such a short space of time. Try it out for yourself immediately and get a taste of the future of telecommunications.
Gary Vaynerchuck has been a real inspiration to me in this area as has JP Morgan Jr. and Klaus Bravenboer. If you are an entrepreneur then quick-fire video can really support your social media strategy. Video allows you to convey a large amount of information in a fast manner. These videos don't have to be the full YouTube productions with lighting, clear audio and a script. Just grab your phone and start shooting on the street. The grittier and more real the better.
I'm still getting started but I've learnt a few things about what works in this format and what doesn't. To get the most out of social video you need to decide on your audience. Then pick the general themes you want to convey to them. I also recommend keeping a notebook with ideas for video episodes so you're never short on a story to tell. Finally, here are Peter's top tips for social mini-videos:
Be out and about. It shows that you are in action and getting things done.
Be direct. The format is short and fast so get to the point.
Be real. You can only touch, move and inspire people if you are authentic.
Tell a story. Give examples and share anecdotes.