Using design thinking in your business is all about organisational culture. To change culture, you need to change conversations. To change conversations you need a conversation starter or maybe a "social object".
When was the last time you talked with someone in your organisation about ethnography, deep empathy, future thinking, prototyping, end-user focus or niche marketing? A great way to start these sorts of conversations is to drop a cubicle grenade which prompts a story or a question. Try this:
Print one of the cartoons below on an A4 sheet and put it somewhere visitors to your workspace will see.
Talk to people about it, ask them what they think of it, ask them what they think of the idea behind it, tell them about why it matters to you, how you found it or who made it. – Tell them a story.
"Cube Grenade" is a new word for an old idea. An object or picture that prompts a meaningful conversation. Each of the cartoons below have the potential to prompt conversations about design thinking, stories about users, a narrative about your brand, insights and even empathy:
1. The Hughtrain: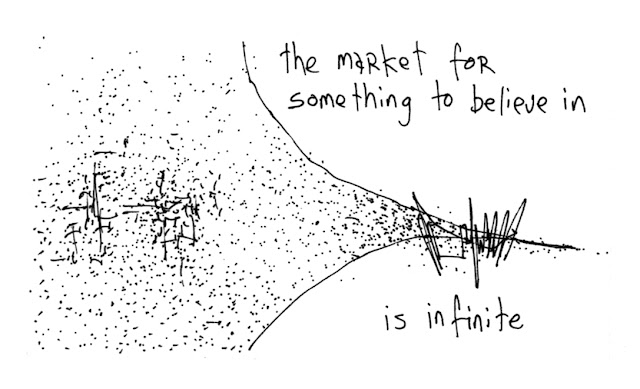 2. Quality: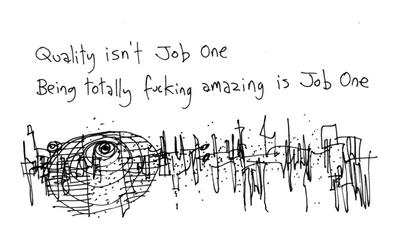 3. It's not what the software does: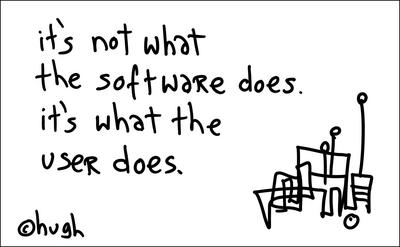 4. Wolf vs. Sheep: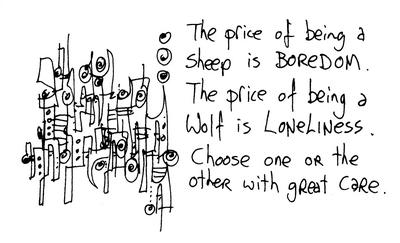 5. Dinosaur: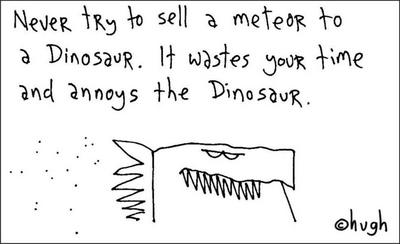 These cartoons are all by Hugh Macleod. Hugh is a seriously talented copywriter, artist, strategist and creative business person. I'm pretty excited about his "end-user cause" based approach to marketing Stormhoek Wines (and other clients like Microsoft). In future posts we'll come back to Hugh's work to look at how you can use the design thinking tools of empathy, research, prototyping and story-telling in more and more creative ways.
Hugh has recently invited readers to use twitter to suggest which of his cartoons are their picks for publication as fine art prints. You can tweet him your thoughts at @gapingvoid.
Of course, all the images above are absolutely copyright to Hugh MacLeod. You should check out his blog to find out more about how you can use, share and enjoy his work.