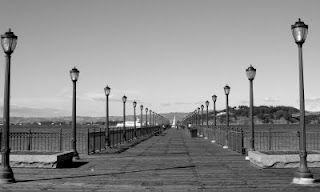 You might not want to hear this, but if you can't put a dollar value on the benefit of your design project then you may not have a project at all. You may have a registered trade mark to protect your brand design. Maybe even a patent or design registration to protect your product designs. But how much intellectual property is there really in your business? And how much is it worth?
In previous posts we've mentioned accurate but hard ways to value your intellectual property using financial analysis. There is also a fast and easy way of valuing intellectual property. I call this approach Naked Valuation™ because you are going to compare your business to a similar business without your intellectual property.
This technique will help you make the business case for design thinking more easily by quickly providing additional economic evidence that investment in design will increase the value of your business. To get started, ask:
"If I copied all your land, buildings, equipment & machinery, and then employed dozens of well trained but totally inexperienced laborers to do your jobs. Then what can you do today that they couldn't do?"
The answer may well tell you a lot about where the real intellectual property is in your business.
Asking yourself this question about the comparable "naked" business will often bring up the value of relationships, channels to market, designs, production problems you've solved, trade secrets, tweaks to your systems and even deep knowledge by a couple of key staff.
Whether it's product design, brand design or innovation processes. Each time you invest in design you are going to add value to the assets that are hardest to copy. It may seem easy to replicate intellectual property such as a physical design or a logo but once you realize that the IP is infused into every element of your business its easy to realize how hard it is to replicate.
To perform a Naked Valuation™ on a product instead of a business, simply identify the value of an asset with the trait that you are valuing and compare it to a similar asset without the trait. For example:
Coca Cola sells for $2.69 for 1.5 litres at my local store, the private label store brand sells for $1.39 for the same volume. A value on intellectual property of 48% of the total price.
A 2009 Lexus ES sells for $41,000 whereas a Toyota Camry from the same manufacturer with the same design sells for $32,000. To be fair the Lexus includes upgrades that if added to the Toyota would cost around $3,000. Even so, the branded premium is still $6,000 or 15% of the total price.
A nice New Zealand Sauvignon Blanc will retail for $30 whereas an unbranded "cleanskin" version of the same wine could sell for as little as $10. For a brand and reputation value of 66% of the total price.
There are lots of other reasons for these price differences and the total return on intellectual property is a function of both price and volume. Even so, the insight remains… to get a quick test of the value of a piece of intellectual property, look for the nearest substitute without your intellectual property and compare the economic value of the two.