Nick Bowmast is a design researcher from New Zealand. He worked in London for over a decade and now splits his time between NZ and the UK. I wasn't quite sure what a "design researcher" does, so Nick pointed me to a blog post about his tools of the trade. It's a fun way to understand how a design researcher spends their time and the type of work that Nick does with clients.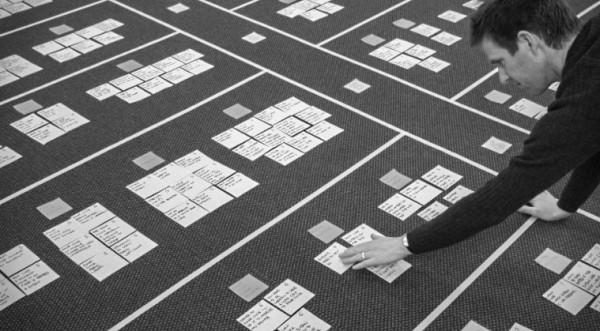 I like understanding someone's craft by looking at their tools. I've always found that reading about a professional's equipment is a surprisingly good way to understand what they do. Most strategists are voyeurs of human behaviour. Maybe like a design researcher in a suit…
---
This post first appeared on Nick's blog User Experience NZ. Enter Nick…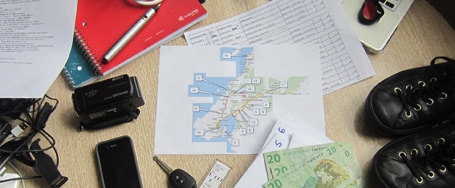 Every band needs both a manager and a roadie. The manager plans the gigs. And the roadie sets the stage, so that the band can focus on playing the gig. Between them, they've usually got a big truck full of kit, and lots of gaffer tape. With design research, there's an amount of planning and kit required too. – I've been running in-home interviews, while playing both manager and roadie roles, but isolating these activities as much as possible from my main role as researcher.
Every minute spent with an interviewee is valuable, so I can't afford to get distracted by practicalities like recording equipment and timings.
After a few years experimenting with the practicalities I've arrived at a 'toolkit' of things in my backpack, so when I pull up at the customer's house the 'roadie' can take a back-seat and let me get on with capturing the insights.
Here's what's in my bag: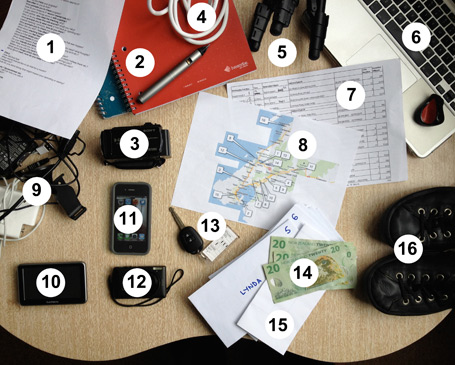 1. Discussion guide I try to keep this to a one pager with topic areas rather than 'scripted' questions. I have the research objectives embedded in my curiosity, so by the time the first interview kicks off, this serves as prompts only. I'll usually be completely free-styling after the first few interviews.
2. LiveScribe pen Records audio and lets you playback what was said time-coded to when you took notes or sketched something. I tape spare ink refills to the book, as they seem to run dry with no warning.I also use the display on the pen for time keeping – it's less obvious than glancing at your phone.
If a subject seems interested in the pen (or any technology that you use) then take the time to explain what it does and why you use it, this neutralises the distraction.
3. Video camera With 120G hard drive – not as petite as some, but changing memory sticks is an extra thing to remember.
4. Extension cord for video camera – and a double plug (Who's got an empty socket these days?)
5. Tripod Compact model, goes up to about 1.2m and has a quick release mount for the camera in case I need to film some action out of the frame or from a different angle.
6. Laptop With travel mouse. I use this immediately after sessions to type up my reflections while they are still fresh. I always drive a bit down the road first …best the subject doesn't see you frantically typing about them from behind their curtains.
7. Schedule Who, When, Where and sometimes demographics; age, segment, occupation etc.
8. Map Hard copy with all participants located, named, numbered and time-stamped. This comes into it's own when there's a change in the schedule and you need to know whether you can actually shoehorn in a replacement participant and still make it from A-B in the timeframe.
9. Cables & chargers Including an in-car USB charger for boosting phone and livescribe pen while driving.
10. GPS Annoying voice, but the best alternative to a navigator. My favourite feature is the ETA. Let's me know whether to put pedal to metal (or not).
11. Smartphone I use the Alarm Clock app for when I can't afford to run over the allotted time, Voice recorder to brain-dump my thoughts while driving between sessions, Camera & Maps as backups, Messaging for contacting participants for timing / directions etc.
12. Still camera As unobtrusive as possible. Must be usable by 'feel' alone (real buttons) and with one hand. Good as a secondary video camera too.
13. Rental car Small & discreet – depending on the context, I sometimes park around the corner or out of sight of the address and appear to arrive on foot. …unless I'm in a rural area.
14. Cash incentives In marked envelopes – for the participant's time and involvement. Folding cash speaks everyone's language – I try to avoid vouchers or direct payments. I always pay the participant at the start of the session and ask them to count the money too.
15. Receipts / NDAs To be signed by participant. This keeps accountant and lawyers happy. I always include permission to video record session and detail the rights of use.
16. Smart / casual clothes I dress up or down a bit depending on the topic that I'm working with and the neighbourhood that I'm visiting – Dress smart enough to be credible, but not authoritative or superior in any way. Smart shoes and Icebreaker clothing seems to go everywhere.
And the most important tools of all…
---
I also wrote up a list of Tools of a Strategist that includes some interesting overlaps with Nick's list such as the voice recorder, notebooks and extra chargers. I also love Nick's blog post on How to make a career change into UX. Although, personally I think I'll stick with strategy for a little longer yet.
Nick is also consulting to the New Zealand government's Better by Design programme. I'm looking forwards to collaborating with him on some interesting blog posts in the future about the overlap between design thinking, user experience and digital innovation.