Barclays and Central Working recently launched their new Knowledge for Growth event series with an "unconference" event to talk about how startups and blue chips can learn from each other. The Knowledge for Growth events are part of Barclays move to support the startup community in London. The main event was on 7 December at Google Campus in Shoreditch.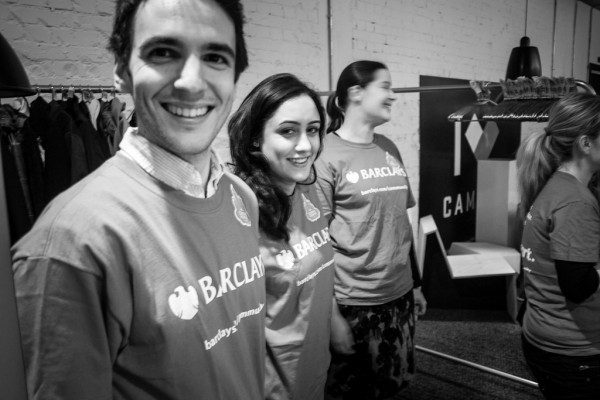 Barclays have formed a long-term partnership with Central Working and will be doing lots more to get involved with the startup community. They already have a small team that hangs out at the Shoreditch Central Working venue and they are working on streamlining their products to suit early stage startups (personally I'm hoping for Xero integration).
The Barclays team were out in force for the day. I was half-expecting the team to run back to the office, but they stayed for the full day and were really helpful, making time to talk to the entrepreneurs one-on-one. It was fun to meet people from wildly different parts of Barclays all the way from compliance, legal and security to application development and innovation.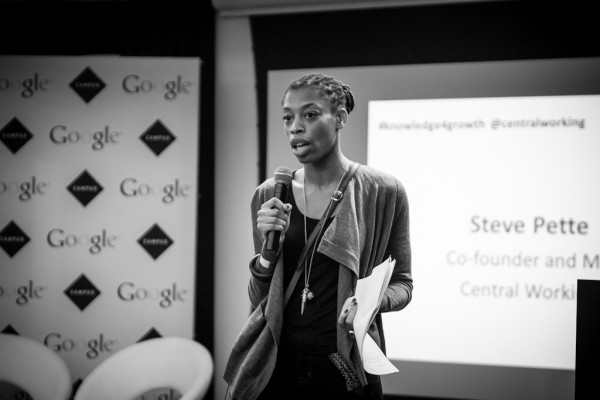 There was a great mix of sessions using an "unconference" style with no powerpoint presentations. Helen Burt gave a couple of great sessions on intellectual property including ideas on trademarks, branding, patents and even when you need (or don't need) non-disclosure agreements. Scott Jarvis was passionate about building teams, nurturing your people and attracting the right ones. Derek White and Elisabetta Osta ran interactive sessions about customer experience and innovation.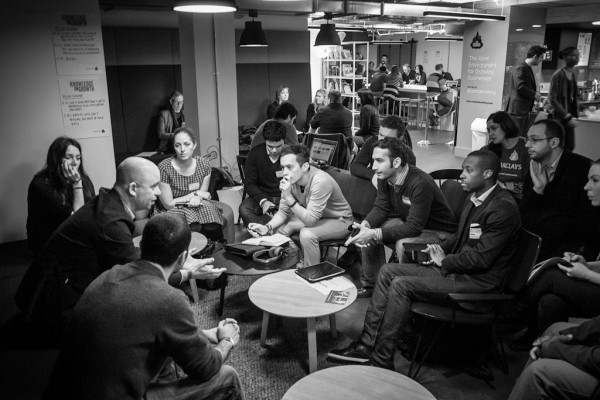 Lee Sankey (who recently spoke at Converge+UK on the neuroscience of music) gave a session on designing for personality and relationship. Barclay's COO Shaygan Kheradpir also joined us for part of the day and met with a few of the startups one-on-one.
Thinking like a startup inside a big company
Every so often I meet someone that makes you stop and re-think how to perceive an entire group of people. I'd worked with a lot of bankers in my time as a mergers and acquisitions lawyer, but no one like Derek White. He is probably the most powerful archetype of an "intrapreneur" (internal-entrepreneur) that I've ever come across. It was an honour to absorb is knowledge for a couple of hours.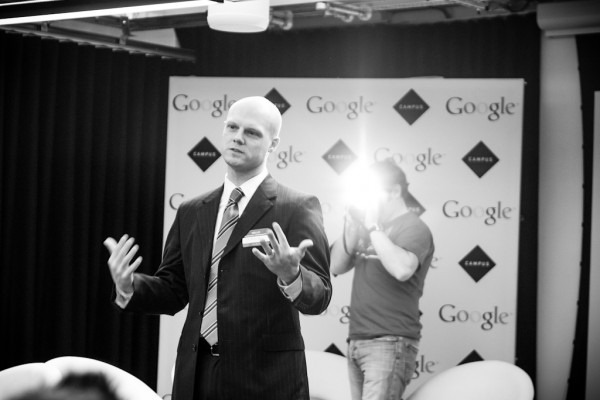 Derek White is the head of the Customer Experience team which acts as an internal startup. They champion creativity within all the areas of Barclays that touch on customer experience. Derek was involved with Juniper bank (who were partnered with Ideo at the time) and has recently been part of Barclay's partnership with Ravensbourne Design School.
The Barclay's innovation process includes the basic steps of Design, Develop and Deploy. They always make sure to reference check their milestones with a sampling of Colleagues, Customers and Competitors. talked about company leadership and how to encourage innovation. He made the tough call that "You show people what's important by where you spend your time."
In terms of social media, marketing and advertising he referred us to some examples of businesses that had grown by developing their Story, Network and Growth models. These were built on helping an audience to See it, Feel it, Get it. Derek's highest ideal in design was that a product should be "seamless and simple".
The story of how Barclays created Pingit was fascinating. The audience was most surprised to learn that the project was planned to take 2 years and the team managed to deliver the first live version in only seven months! Derek thought that mobile payments would be the biggest shift in banking since the invention of the ATM.
Derek recommended a couple of interesting books to check out including:
We had a group discussion about how to distinguish between "things that you do good" and "things that you do great". We also talked about how important it is to get "purity" of inputs into an innovation process and to manage the "debris" created during an innovation process.
Innovating by focusing on customer experience
Derek talked about innovation in B2B and B2C aspects of banking. But he reinforced that most B2B is really B2B2C (meaning business to business to consumer). This means that if your company is selling to a business, you need to be aware of their customers and talk in terms of outcomes that can add value to their offering to their own consumers. Derek said "If you're selling to someone, then help them sell to their customer."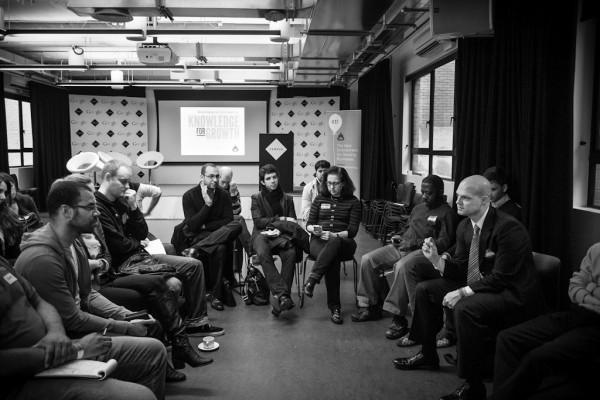 Derek also touched on the personal side of business including knowing your own Myers Briggs profile and mentioned that he grew up around Stephen Covey and found the Seven Habits of Highly Effective People a great read.
In the workshop we talked about the balance between iterating and launching fast with the need to get your shit together and make sure that everything is done to a high standard. They key was to make sure that you can tell your story verbally and visually. For the Barclay's Pingit project the visual prototypes were incredibly important because they could be understood by people from all parts of the business and helped make the project seem more real.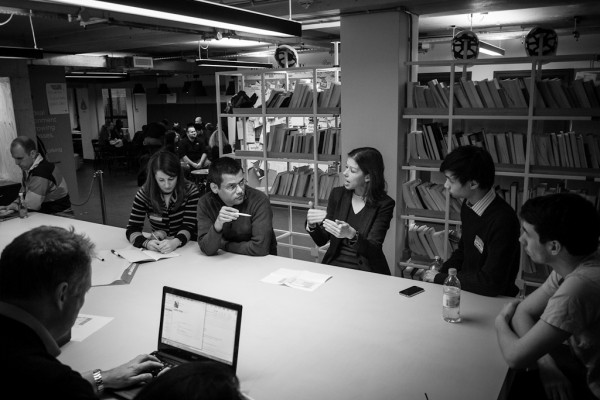 The Converge+UK team wore our Get Sh+t Done t-shirts and the Barclays crew thought they were great fun. A few of the team even asked for copies of our event posters with the GET SH+T DONE mantra.
Barclays and Central Working
The collaboration between Central Working and Barclays is part of a larger trend for enterprise companies to partner with startup incubators, idea accelerators and growth escalator programmes. There is a lot that the worlds of big business and startups can learn from each other.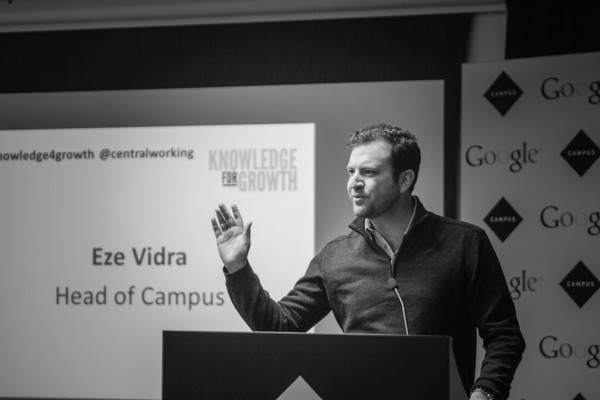 This year I've been humbled to meet so many entrepreneurs and so many great organisations that are helping them. We've hosted events at Google Campus, Innovation Warehouse, Wayra and gotten to know great groups like TechHub, Central Working, The Trampery, General Assembly and We Are Human. It's been a wild year for me in the East London tech scene. Can't wait to see what happens next.