As social media and digital communication accelerate, the impact is being felt beyond mass-consumer advertising and bursting into all part of the business world. From large B2B companies to your local cafe.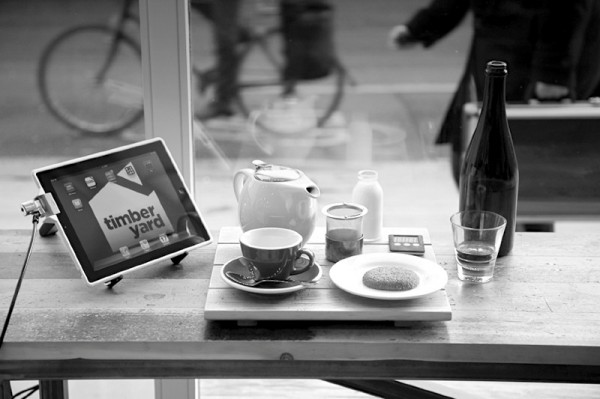 In a social media and digital space there is nowhere for bad service to hide. I've long argued for the business value of design and creativity, but what does this mean in the new digital context? The answer starts with the increasing volume of your customer's voice.
Louder voice of the customer
I just had a great coffee at a cool new cafe that has opened this week in my neighbourhood in London. They are lucky it was great because the first coffee that I had there was pretty average and they were about to be on the receiving end of a series of bad reviews across Facebook, Twitter, Yelp, Foursquare and Google Places. Potentially brutal? Yes. Increasingly common? Absolutely.
Social media has permanently changed the balance of power in a consumer transaction. Giving a new voice to customers. Amplified by three main changes:
Speed: Before my iPhone it would have taken days or even weeks for me to tell my friends about a new cafe (good or bad), now it takes just seconds. It also only takes seconds for them to pass it on. And, it's now faster to create the review in the first place. Google has a new app that allows me to create reviews of your business with a single tap. Faster to create and faster to spread. Quite a combination.
Reach: The most obvious change is that before Twitter, Blogging and Trip Advisor my review would have been private to all but a few friends that I emailed or told in person. We are all now a mouse click away from global publishing to an unlimited audience. This democratisation of communication gives everyone a voice. Do you like what they are saying?
Location: Before geo-location based services my review would have been hidden in plain sight on a long forgotten Blog or a Facebook post. Anyone that wanted to read it would have had to actively search for it. Now my review is geo-tagged to the corner of Clerkenwell Rd and St Johns Street in Farringdon, meaning that anyone who walks past that location and searches for a cafe can instantly see the review. And everyone else's review as well. We don't find information, it finds us.
So, what does this mean for a business considering how much to invest in brand creation, new product development or innovation? It means that your customers now have a louder voice and that to survive you are going to need more empathy for their experiences. So that you can create brands and products that get positive word of mouth.
Building a brand based on empathy
Creativity, design and empathy are soft skills much forgotten within hardened businesses who suffer aggressive competition and price pressure on margins. I take an unashamedly commercial view of the world because it lets me understand how a business is going to keep score. But a short term financial view isn't enough anymore. You need to invest in branding and design that delights your customers because if you don't then your customers can tell you, and everyone else.
Banks and healthcare companies ignored their customers for years and your local cafe could often trade on the foot traffic of their location long enough to get away with bad coffee. This is changing. I've been involved in several new brand launches where we've had public and vocal customer feedback within minutes. This has increased the need for empathetic design and pre-launch testing. It's also increased the need to get it right first time. Because customers are listening to each other, you need to be listening to them as well.
Starbucks is a big company but they are fast learning that their customers now have more power than ever before. They are embracing this through a number of social media initiatives using empathy as a key tool. My favourite is the "My Starbucks" site which allows passionate users to request and review new ideas for the chain's cafes. Whatever you think of their coffee, at least they are listening. The first step in real empathy is listening.
Business impact of lean branding
The barista at the new cafe in London stopped by my table to ask how the coffee was. Reminding me that there is no substitute for real-life listening in-person to your customers. Social media is a great way to get feedback but think of it as a first step, not the only one. Your brand is built on the sum of all of a customer's experiences.
If Social Media means an increased volume of feedback, and the intensity of feedback means that you are going to need more empathy, then where does this leave branding and design? Even with more vocal customers on Social Media, design thinking is still the best route to empathy with your user so its more important than ever. To build a brand based on empathy you need all the tools of design thinking: ethnography, un-focus groups, research for insights, archetypes and most importantly a compelling brand vision. Design thinking for a brand means putting the customer at the centre of the brand. Not you.
If people are going to be talking about your brand then you need to give them stories worth telling. The business impact of branding and design has increased because any changes you make are amplified through feedback and discussion of your brand in every channel. People talk.